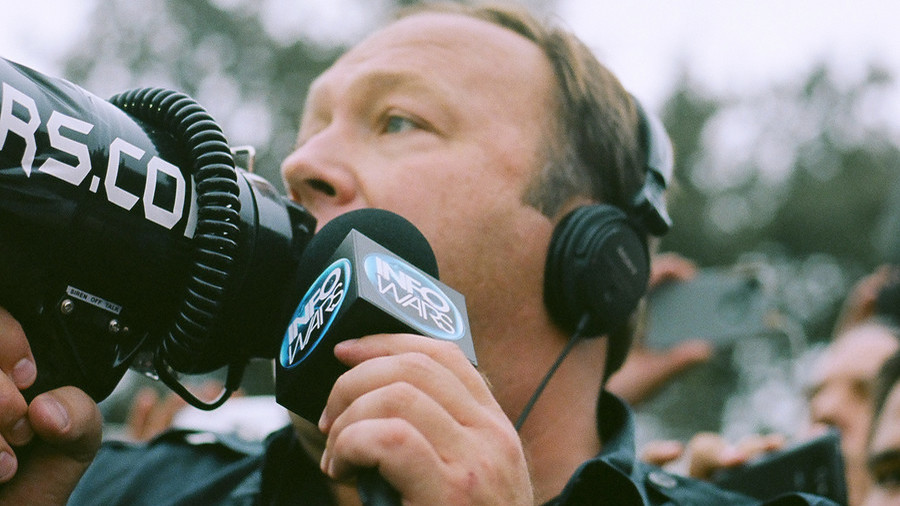 Controversial right-wing commentator Alex Jones has been banned from tweeting after he posted a link to a video of himself calling on President Trump to "take action" against tech companies censoring his content.
Infowars Editor Paul Joseph Watson tweeted a screenshot of the notification sent by Twitter staff to Jones. According to Twitter, a tweet by Jones one day earlier was considered to be "targeted harassment," and, as a result, the Infowars host would have his access to the social-media platform restricted for one week. Watson described the situation as "truly, monumentally, beyond stupid."
In the video, Jones ranted about the censorship of conservative voices by Silicon Valley tech companies, directing much of his scorn at Apple CEO Tim Cook. He called his own ban from various tech platforms a "total anti-American attack," and called on President Trump to "do something about it." Along the way, he bashed Democrats, criticized the mainstream media, and accused Cook of working with the Chinese government to undermine America.
Jones' Twitter page will remain visible for the duration of the ban, but he will not be able to tweet, retweet, follow, or like.
Last week, Infowars found itself banned from the platforms of almost every major Silicon Valley company – including Facebook, YouTube, Apple, and Spotify – for violating their community standards and spreading 'hate speech.'
Until Tuesday, Twitter was one of Jones' last safe havens online, and CEO Jack Dorsey said that Jones would not be banned until he broke the site's rules.
Jones' excommunication was cheered by many in the US, including Senator Chris Murphy (D-Connecticut), who called Infowars "the tip of a giant iceberg of hate and lies." He demanded even more censorship in the name of 'saving democracy.'
Jones' supporters blasted the companies for censoring the rabble-rousing host, and former UKIP leader Nigel Farage called him a "victim of collusion by the big-tech giants."
While effectively banned from much of the internet, Jones still posted content to the Infowars website, and via the Infowars app, which has surged in popularity amid the furore. However, on Tuesday, the Infowars website went offline in what staff called a cyberattack. Upon landing on the site, visitors would simply find an error message, which was later replaced with a low-fi splash page directing them to several other affiliated sites.