It's not about lowering the bar. It's not about giving up the beauty of our ideals. It is not a question of succumbing to the call of mediocrity.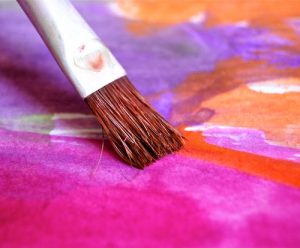 It's about knowing when to do it. There are times when aiming for the sublime and doing everything in our power to reach it is adequate. If we practice an art and we aspire to create a magical work, whether for our personal satisfaction or to be able to sell and live our passion, for example. Or if you express something very delicate. Or if you are a neurosurgeon and you operate a brain. ;-)
Sometimes setting the bar very high is worth it, and the amount of energy that we invest to go from 80% to 95% will be made a hundredfold. Because it is often this small 15% that will make all the difference. And sometimes, it's just the opposite … We must start by lowering the bar if we want to get into action and then be able to enhance it. Because the only way to get into something new is to accept to do it badly … That's it or nothing at all, and asking more would only paralyze us.
Also, there are more troubled times when 80% is the maximum we can give, and it's "perfect" in the general context of our lives. Oh, and there are times when the extra 15% is just not necessary and not worth the investment. In the end, it's not always about aiming for the pinnacle of excellence … It's not about investing our whole heart and soul, all the time …
It's just about being very good listen and recognize when it matters. That's how to be a good perfectionist. ;-)